Two RV Gypsies: Full-Time RVers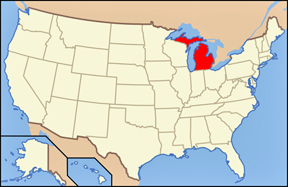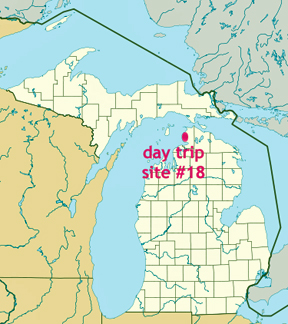 Good Hart is an unincorporated community in the township on the shore of Lake Michigan and is part of The Tunnel of Trees, M-119 about 13 miles north of Harbor Springs and eight miles south of Cross Village. This was a center of Ojibwe settlement under the leadership of Joseph Black Hawk and his brother Good Heart in the early 19th-century. The township has a total area of 31 square miles.

Sign entering the City of Good Hart on the Tunnel of the Trees road.

White Lilac trees and large artistic butterflies

The Good Hart General Store and a really great T-shirt. Karen would have bought it, but she only likes V-neck T-shirts.

Good Hart, located just past Robinson Road, is a tiny village that serves as the enclave of a few select stores. Upon stopping in Good Hart, the two RV Gypsies wandered into a store called Primitive Images, which was filled with unusual furniture, decor, jewelry, and a tea room. Here the two RV Gypsies were given free lemonade which was excellent. Then the two RV Gypsies saw "Northern Crepes": a pop-up cart that looked like it was transported out of a 1950's movie set. Northern Crepes fills European-style crepes with fresh-bought local produce and other Northern Michigan-made fare. There are two separate menus, Savory and Sweet.

The two RV Gypsies sat outside of Northern Crepes stand and enjoyed their lemonade while waiting for their crepes to be made.

PBS was filming in Good Hart for a PBS TV Special and they interviewed the two RV Gypsies. The photo below shows Tom Daldin (from the PBS series "Under the Radar") filming Northern Crepes and Primitive Images and interviewing the two RV Gypsies and the ladies sitting at the roadside table next to the two RV Gypsies. The PBS special was shown in Michigan and other nearby states, plus parts of Canada in August 2013. It is titled "Northern Crepes."

After enjoying their crepes, the two RV Gypsies drove around the corner and down a dirt road and found themselves at Redmond Township Beach Reserve.

The two RV Gypsies followed the pathway through the sand dunes to Lake Michigan.
You may visit these five (5) sites in any order you choose.
The page you are on is grayed out and cannot be chosen.

Good Hart