WHAT'S NEW ON THIS WEB SITE ???? scroll down to find out about the special highlights and disasters of the last few years. There are also lots of helpful hints on this page.
Be sure to scroll all the way to the bottom of this page, and every page so that you don't miss out on something important. There is a lot of navigational help on this page, plus under the photo button above, and under the Table of Content (TOC) button above.

2018 NEWS: The two RV Gypsies got on the road later than normal in 2018. They spent a lot of time in Florida because of several special family events. And they moved their home base for the RV from Florida to South Carolina for awhile. So in 2018, their travel was limited to the southeast.


2017 adventures are posted, but here is a 2017 travel summary because events were unusual: The two RV Gypsies took a trip from Florida to Connecticut with several fun stops in between. Then they enjoyed time with family and friends in Connecticut.
Then they left Connecticut to get back to Florida for two special birthday parties, and had some fun stops, but along the way their RV needed some repair, so they stayed in hotels in Maryland, until their RV was repaired enough to finish the trip to Florida. Unfortunately, the repairs took longer than expected, and they had to miss the birthday celebrations. So sorry, Amy, Renee and John.
They finally reached Florida, and Karen flew to California for her niece's wedding. Lee does not want to fly anywhere, so he remained in the RV in Florida.
Then, the two RV Gypsies drove their RV to the Winnebago Factory in Iowa because they had an appointment there to get the slideouts fixed. (They originally had this scheduled for September 12, 2016 but when they got there, the factory had to make a part so the repair was rescheduled for August 1, 2017). The two RV Gypsies had to stay in a hotel until August 19th. After Iowa, the two RV Gypsies planned to drive their RV to Arizona to visit Lee's sister Patty, who is not feeling well. But the cost of the repairs made it impossible to go to Arizona, so they headed back to their permanent camping spot in Florida. They are so glad they do not have a house to worry about while traveling.
Then the two RV Gypsies went to Tennessee and visited Lee's nephew and his family on their farm and really enjoyed their visit. Karen and Gabby got dressed in bee-suits and Karen learned a lot about bees and Goats walked on the car of the two RV Gypsies. Those adventures and more on site 20 on the 2017 USA map.
However, due to Hurricane Irma going towards Florida, the two RV Gypsies were unable to go to Arizona as planned to visit Lee's sister Patty. Their A/C and their refrigerator both died and they had to hang loose and watch what the hurricane's path. In the meantime, they prayed for the safety of their family and friends in Florida and elsewhere in the path of Hurricane Irma.


In 2016 & 2017, the two RV Gypsies had big expenses in RV repairs. But since they do not have a house or apartment, things like this have to be expected. Due to these circumstances, they stayed in their RV in Broward County, Florida for an extended time in 2018. All travel can be found by using the USA button above and choosing the map for the appropriate year.
Life is an enormous book. To not travel is to read only the first page.
2016 quick summary: Eight times the two RV Gypsies had to put their RV in different repair shops and they still had problems. But they also had lots of fun in 2016, especially when three family members joined them in Alaska. Karen had a major ATV accident but she is fine. The two RV Gypsies then returned to their RV Park in Florida for the winter. All of this can be found under the USA button above / then choose the 2016 map. But first, be sure to check out all the information below on this page, much of it will be useful in navigating this very large website. Some special highlights are also noted below.
2016 - The two RV Gypsies proudly announced the birth of their great-granddaughter Gabriella. She will be worshipped by her brother Anthony.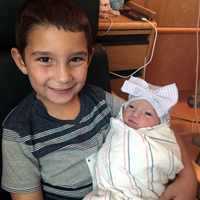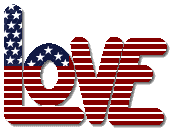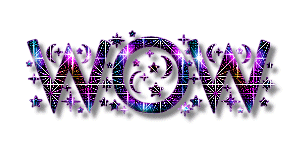 September 7, 2015 The two RV Gypsies were in Ontonagon, Michigan and they went outside of their RV and saw The Northern Lights in the sky. They wanted to see them better so they drove just outside of town to get away from the city and lights and they drove down a road towards Lake Superior. It was a dead end road and there were four young guys watching the Northern Lights and they welcomed the two RV Gypsies to join them. It was like a dream come true; watching the Northern Lights and listening to the waves break on the shoreline of Lake Superior. One of guys gave Karen a pin and another gave her two pieces of nice driftwood to burn incense on and they even signed the driftwood. The two RV Gypsies hung the signed piece in their RV for all to see as they enter. What a special night the two RV Gypsies will remember forever. Photo below.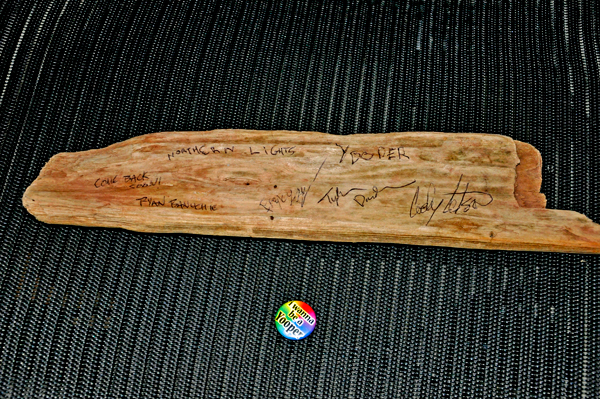 October 19, 2014 - While at the Tybee Island Lighthouse in Georgia, the two RV Gypsies met some very nice people. After talking for awhile, the ladies asked Karen to post pictures of her Travel Tree on her website, so here they are. (Ladies, please use the guestbook button above and sign in so that Karen knows you visited her site. Thank you, we enjoyed talking with you. ) Obviously the travel ornaments cannot show up very well in the photos. Karen tries to buy something that hangs wherever she goes; something that says where they are, and often that is just a keychain. An update of the Christmas trees was posted December 2015. So far there are 122 keychains displayed on chains under upper cabinets, 121 travel ornaments on the big tree, 25 breakable travel ornaments on the wire tree, plus 85 patches displayed on six belts that hang around the RV. And the two RV Gypsies collect more and more ornaments, keychains, and patches each year.

The USA, Canada, Alaska and TOC buttons above are the easiest ways to navigate this website! Always scroll to the bottom of every page for a new link or a flashback. It is important to adjust your monitor viewing size (instructions are posted below on this page, so scroll down). There is a lot of helpful information on how to find photos and navigate this website which can be reached by choosing the photos button above. Thank you for visiting and keep scrolling down this page. RVers should check the Links button above for more help in planning on buying an RV and travel.